Upcoming free film screenings and special events from Utah Film Center
---
Upcoming Free Salt Lake City Screenings
---
Tuesday, February 28 @ 

7:00 PM

 
 The City Library - 210 E 400 S
Best of Fest
GLEASON
Directed by Clay Tweel
110 min | 2016 | USA | Rated R

This critically acclaimed film is an intimate look into the life of Steve Gleason, a former NFL player diagnosed with ALS at the age of 34.

Winner: Audience Award–2016 SXSW Film Festival; Official Selection: 2016 Sundance Film Festival
Learn More...
Saturday, March 4 @ 

11:00 AM

 
 The City Library - 210 E 400 S
Tumbleweeds Year-Round
KIKI'S DELIVERY SERVICE
Directed by Hayao Miyazaki
102 min | 1989 | Japan | Rated G

Cast: Kirsten Dunst, Phil Hartman, Janeane Garofalo, & Debbie Reynolds

From legendary director Hayao Miyazaki comes the beloved story of a resourceful young witch who uses her broom to create a delivery service.
Learn More...
Tuesday, March 7 @ 

7:00 PM

 
 The City Library - 210 E 400 S
Films Without Borders
THE CINEMA TRAVELLERS
Directed by Shirley Abraham & Amit Madheshiya
96 min | 2016 | India | Not Rated
Presented in Hindi & Marathi with English subtitles.

A lyrical film that explores the world of the showmen who operate traveling tent cinemas that bring films to remote villages in India. 

Winner: Golden Eye Special Mention–2016 Cannes Film Festival
Learn More...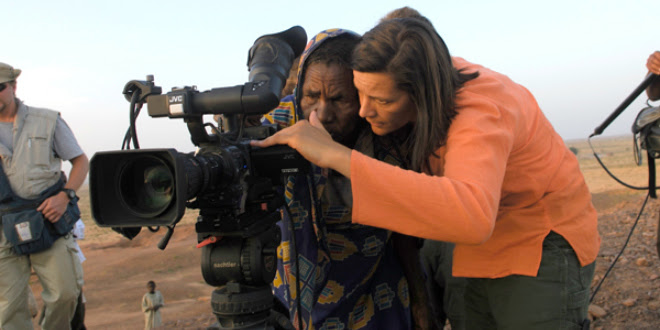 Wednesday, March 8

 @ 

7:00 PM

 
 Rose Wagner - 138 W 300 S
Through The Lens
CAMERAPERSON
Directed by Kirsten Johnson
102 min | 2016 | USA | Not Rated

*Post-film Skype Q+A with director Kirsten Johnson moderated by KUER RadioWest host Doug Fabrizio.

Renowned cinematographer Kirsten Johnson's visually bold memoir created from the vast trove of footage she has shot over the past decades. 
Learn More...
---
Upcoming Free Outside of Salt Lake City Screenings
---
Monday, Mar 6 @ 4:00 PM - West Jordan

 Viridian Event Center - 8030 S 1825 W

Saturday, Mar 11 @ 2:00 PM - Orem

 Orem Public Library - 58 N State St
Traveling Tumbleweeds
ELEANOR'S SECRET
Directed by Dominique Monféry
80 min | 2009 | France | Not Rated
Recommended for Ages 6+

Cast: Eliott Berger, Cressida Bandey, Mirabelle Kirkland, and Paul Bandey

Eleanor's Secret is a beautifully designed, rollicking adventure in which a boy's new found ability to read not only sets his imagination free, but saves the day!

Learn More–West Jordan...
Learn More–Orem...
Thursday, Mar 9 @ 7:00 PM - West Jordan

 Viridian Event Center - 8030 S 1825 W

Thursday, Mar 16 @ 7:00 PM - Moab

 Star Hall - 159 E Center St
Utah Film Circuit
DARK HORSE
Directed by Louise Osmond
85 min | 2015 | UK | Rated PG

A barmaid in a Welsh mining village convinces her friends to pool their resources to take on the elite 'sport of kings' and breed a racehorse.

Winner: Audience Award World Cinema Documentary–2015 Sundance Film Festival; Winner: Best Documentary–2015 British Independent Film Awards

Learn More–West Jordan...
Learn More–Moab...

Wednesday, Mar 15 @ 7:00 PM - Ogden

 Peery's Egyptian - 2415 Washington Blvd
Utah Film Circuit
CAN YOU DIG THIS
Directed by Delila Vallot
80 min | 2015 | USA | Not Rated

Follows the journey of four unlikely gardeners in South Los Angeles who discover what happens when they put their hands in the soil. 

Winner: LA Muse Award–2015 Los Angeles Film Festival

Learn More–Ogden...
Jenny Mackenzie's Kick Like a Girl
 
Local filmmaker and recent guest speaker Jenny Mackenzie stopped by the Utah Film Center to drop off copies of her documentary Kick Like a Girl–a gift to teachers in our SHIFT Through My Lens workshop who learn how to best integrate documentary film into their classrooms. 

The story is about The Mighty Cheetahs, an undefeated third grade girls soccer team who competes in the boys' division. This honest and humorous crowdpleaser tells a larger story about the reality of gender stereotypes and what "Kick Like a Girl" means on and off the soccer field.

Click here for more inspirational documentaries from Jenny Mackenzie.
Fellow film and media arts friends—Mark your calendars for the LightSpark Media Summit on March 3rd!  Friends of the Utah Film Center can save 50% off registration with promo code lightspark17.

Join fellow digital artists, musicians, directors, producers, actors, businesspeople, students and attorneys for this day-long symposium to explore emerging trends in the film, TV and music industries. Keynote speaker will be actress, activist and author Maria Bello.
---
UTAH FILM CENTER PROGRAMS GENEROUSLY SUPPORTED BY
---
Do you like this post?