Upcoming free film screenings and special events from Utah Film Center
Learn to step with Coach G on March 20



Join us for an exclusive step training class taught by Coach G from the 2017 Sundance Film Festival documentary STEP! All ability levels are welcome. 

Monday, March 20th @ 

6–7pm


Trolley Square Studio D1-16 (Next to SPARK)

$30 for adults, $20 for students. Coach G will donate $10 from each adult ticket & $5 from each student ticket to the Utah Film Center.
Movie Trivia Night on 

March 30



On 

March 30th

, YOU have the opportunity to shape the future of the Utah Film Center and other amazing Utah non-profits in a single day by participating in Love Utah Give Utah. To cap off the day, join us for a Movie Trivia Night from 

6–8pm

 at Bourbon House! $10 suggested donation per team to participate in Movie Trivia Night.
---
Upcoming Free Salt Lake City Screenings
---
Tuesday, March 21

 @ 

7:00 PM

 
 The City Library - 210 E 400 S
Women's Stories
STEP
Directed by Amanda Lipitz
83 min | 2016 | USA | Not Rated

*Post-film Q&A with Geri McIntyre (film subject, step coach) & Maisha Graves (film subject, mother of step team member).

The story of a senior high school girls' step team in Baltimore as they prepare to be the first in their families to go to college.

Winner: U.S. Documentary Special Jury Award for Inspirational Filmmaking–2017 Sundance Film Festival
Presented in partnership with Tanner Center For Human Rights.
Learn More...
Wednesday, March 22

 @ 

7:00 PM

 
 UMFA - 410 Campus Center Drive
Creativity in Focus
KOYAANISQATSI
Directed by Godfrey Reggio
86 min | 1982 | USA | Not Rated

An apocalyptic vision of the collision of two different worlds–urban life and technology versus the environment. Music score by Philip Glass.

Part of the permanent collection: The Museum of Modern Art, British Film Institute, Musée du Cinéma Cinémathéque Française, George Eastman House, and more.

Presented in partnership with the Utah Museum of Fine Arts.
Learn More...
Tuesday, March 28

 @ 

7:00 PM

 
 The City Library - 210 E 400 S
Women's Stories
I AM JANE DOE
Directed by Mary Mazzio
98 min | 2017 | USA | Not Rated

*Post-film discussion TBA.

A chronicle of the battle several American mothers are waging on behalf of their middle-school daughters, victims of sex-trafficking on Backpage.com.
Presented in partnership with the Junior League of Salt Lake City.
Learn More...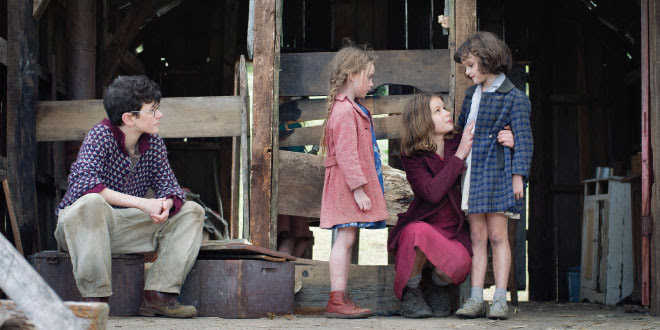 Saturday, April 1

 @ 

11:00 AM

 


Sunday, April 2

 @ 

2:00 PM

 
 The City Library - 210 E 400 S
Tumbleweeds Year-round
FANNY'S JOURNEY
Directed by Lola Doillon
94 min | 2016 | France/Belgium | Not Rated
Presented in French with English subtitles.

Recommended for ages 10+

Based on the incredible true story of a daring 13-year old Jewish girl who leads a group of young children to safety and freedom from the Nazis. 
Learn More...
---
Upcoming Free Outside of Salt Lake City Screenings
---
Monday, Apr 3 @ 4:00 PM - West Jordan

 Viridian Event Center - 8030 S 1825 W

Saturday, Apr 8 @ 2:00 PM - Orem

 Orem Public Library - 58 N State St
Traveling Tumbleweeds
A CAT IN PARIS (Une vie de chat)
Directed by Jean-Loup Felicioli & Alain Gagnol
80 min | 2010 | France/Belgium | Not Rated
Recommended for Ages 8+
Cast: Dominique Blanc, Bruno Salomone, and Jean Benguigui

Dino the cat lives a double life with the family of a police detective by day and a cat burglar by night in the beautifully hand-drawn film.

Nominated: 2012 Academy Award for Best Animated Feature

Learn More–West Jordan...
Learn More–Orem...
Thursday, Apr 13 @ 7:00 PM - West Jordan

 Viridian Event Center - 8030 S 1825 W

Thursday, Apr 20 @ 7:00 PM - Moab

 Star Hall - 159 E Center St
Utah Film Circuit
THE MUSIC OF STRANGERS: Yo-Yo Ma & The Silk Road Ensemble
Directed by Morgan Neville
96 min | 2015 | USA | Rated PG-13
From Oscar®-winning director Morgan Neville, comes the story of the international musical collective created by legendary cellist Yo-Yo Ma.

Official Selection: 2015 Toronto International Film Festival, 2015 Berlin International Film Festival
Wednesday, Apr 19 @ 7:00 PM - Ogden

 Peery's Egyptian - 2415 Washington Blvd
Utah Film Circuit
TOWER
Directed by Keith Maitland
82 min | 2015 | USA | Not Rated

*Post-film Skype Q&A with director Keith Maitland.
Archival footage combined with rotoscope animation, in a never-before-seen way, reveal the untold stories from America's first mass school shooting.

Winner: Grand Jury Prize and Audience Award for Best Documentary Feature—2016 SXSW Fim Festival
SHIFT Teacher: Emily Mallory

Emily Mallory is one of Utah Film Center SHIFT's veteran digital media teachers. She teaches US History and a digital storytelling class at The McGillis School. Committed to what she believes are the three pillars of media-making in the classroom: technical skill building, media literacy, and civic engagement, her students create PSAs on topics ranging from driving and cell phone use, Islamophobia, animal testing, support for their school staff, to homelessness in Utah. Their films premiere each week at the Middle School 

Monday

 Meeting in front of an audience of about 150.

Emily enjoys sharing ideas with other teachers, so feel free to reach out to her at 

[email protected]

 to watch her students' PSAs or brainstorm project ideas.
---
UTAH FILM CENTER PROGRAMS GENEROUSLY SUPPORTED BY
---
Do you like this post?