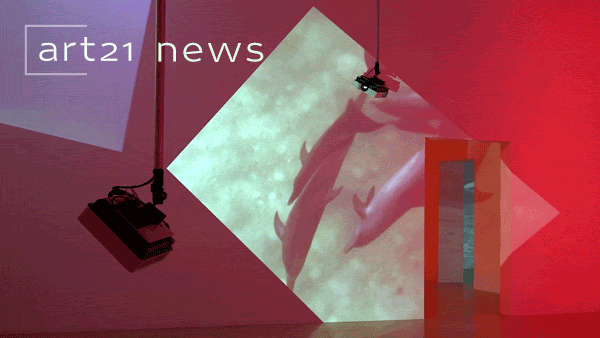 It seems like Season 8 premiered yesterday--hard to believe it's been more than a month since our documentaries on artists in four great North American cities were broadcast around the country. Since the premiere, we've taken the season on the road, hosting 
events
 with featured artists in Chicago and Vancouver, and inviting you to host your own screenings through the 
ART21 Screening Society
. 
Artist and cartoonist Chris Ware joined us for not one but two events in Chicago--one at Theaster Gates's Rebuild Foundation and the other a panel discussion at the Art Institute--where he thanked ART21 for choosing Chicago, "and for doing such a dignified, approachable and warmly human job of it." If you still haven't seen the episodes, 
watch them online
 or 
find a screening near you
.
Tina Kukielski
Executive Director, ART21
October 26, 2016

In this issue of ART21 News:

New Videos Featuring Nick Cave and Diana Thater
From the series, ART21 Exclusive
Artist Nick Cave discusses the experiences that force him to confront his identity as a black man--including being racially profiled by police--and how they fuel his impulse to create. Cave explains that in these moments he gets quiet and avoids lashing out in rage. 
"And if I do, lashing out for me is creating this," he says in reference to his intricately constructed Soundsuits. "The Soundsuits hide gender, race, class and they force you to look at the work without judgment."
Premiered on October 7, 2016
From the series, ART21 Exclusive
Artist Diana Thater discusses her interest in improving the lives of both humans and animals through art and activism. Speaking from the site of the former Los Angeles Zoo, Thater describes her activism as being focused on "anti-captivity." 
In Thater's multi-channel video installation Delphine (1999) "you can see a dolphin spinning underwater and you can almost feel it." Thater hopes Delphine generates a sympathetic response from the viewer and creates a new way to communicate between species. "My life as an artist is a different one," says Thater. "The politics are much more subtle."
Premiered on October 21, 2016
"It's just beautiful, smart footage of art and artists, no two of whom are alike even in their conceptions of what art is." 
Jen Graves in The Stranger's review of Art in the Twenty-First Century Season 8, "Art TV, Not Hate TV"

Season 8 Resources and Reviews
All four episodes of 
Art in the Twenty-First Century
Season Eight 

are available to 

stream online

. 
If you've seen the episodes, let us know what you think with 
#ART21Season8
. One of our favorite reviews is from 
Lynora Conti
 who wrote 
on Facebook
, "
Emphatically needed Liz Magor in my life today. Watching her cast gloves was weirdly gratifying." Another comes
 from 
E.J. Cobb who tweetedon premiere night,
 "If you're not watching ART21 you made a mistake. Go back in time and try again."

Become a Member
ART21 has launched a 
new membership program
 to provide customized ways for you to engage with ART21. Invitations to season premieres and special access events, passes to major art fairs, and recognition on ART21.org are just some of the offerings in this new program. 
Join today!
"The episodes provide rare, often intimate moments in an artist's life and work, and details the environments they work in...This is riveting television, providing almost unheard of access to great artists at work."

Highlights from the ART21 Magazine
Hannah Harris Green and Morgan Green, "Human Condition: Limbo in an Abandoned Hospital" | October 3, 2016
Jacquelyn Gleisner explores Jesse Chun's On Paper series, which transforms immigration paperwork and passports into poetry and landscapes, searching for a place of belonging that extends beyond geography. 
"Places within Us," New Kids on the Block column | October 12, 2016
Writer Claudia Arozqueta offers an 
important, insightful critique
 of the "Mexican moment," outlining the cultural landscape of Mexico City and carefully framing it within crucial societal contexts. 
"Mexico City's Artsphere" | October 19, 2016

Featured Video from the ART21 Collection
From Season 2 of ART21 Art in the Twenty-First Century
"I guess it comes from early on in childhood, a fascination with moving parts and sort of the magical." --Tim Hawkinson
Premiered on September 17, 2003
"I just finished watching two episodes of ART21. Wow, what an inspiring show, and gives me a lot to think about. Love. Love. Love that show." 

Shop ART21
ART21 Art in the Twenty-First Century 
Get inspired by today's most compelling artists with ART21's Art in the Twenty-First Century. Discover the stories, ideas, and methods behind their work in a Peabody Award-winning series that takes viewers into artists' studios, homes, and communities to provide intimate access to their lives, creative processes, and sources of inspiration.
Eight seasons of ART21's series 
Art in the Twenty-First Century
, featuring over 100 artists across 32 episodes, are available to purchase on DVD through 
ShopPBS.org
 and other retailers, and as digital downloads through 
iTunes
, 
Amazon Instant Video
, and Google Play.
Do you like this post?